Últimamente plexdrive está dando problemas debido al cambio de autenticación de Google, podemos leer mas en este enlace pero básicamente se trata de lo siguiente:
OAuth out-of-band (OOB) is a legacy flow developed to support native clients which do not have a redirect URI like web apps to accept the credentials after a user approves an OAuth consent request. The OOB flow poses a remote phishing risk and clients must migrate to an alternative method to protect against this vulnerability. New clients will be unable to use this flow starting on Feb 28, 2022.

Si intentamos configurar plexdrive nos generará la URL donde debemos autorizar el acceso pero en el último paso Google nos mostrará el siguiente error:
Error 400: invalid_request
No puedes iniciar sesión en esta aplicación porque no cumple con la política OAuth 2.0 de Google destinada a mantener seguras las aplicaciones.
Puedes decirle al desarrollador que su aplicación no cumple una o varias reglas de validación de Google.

Para solventarlo temporalmente compilaremos el código fuente de plexdrive a mano modificando una línea mientras el desarrollador de plexdrive actualiza el proyecto, los pasos a seguir son los siguientes:

vi drive/drive.go
                        

//RedirectURL: "urn:ietf:wg:oauth:2.0:oob",


                        

RedirectURL

:

 

"http://localhost:1/"

,



Compilamos:

GO111MODULE=on go install
Solo ejecutaremos este binario modificado para obtener o renovar el "code":

~/go/bin/plexdrive mount -o allow_other -v 3 –drive-id=123NN6pzdEfUgXXUk9123 /mnt/gdrive
Sacará la URL de auth pero cuando concedamos permisos indicando la cuenta de Google intentará redirigirnos a http://localhost:1 dando error, pero en la URL podremos ver el código que nos interesa.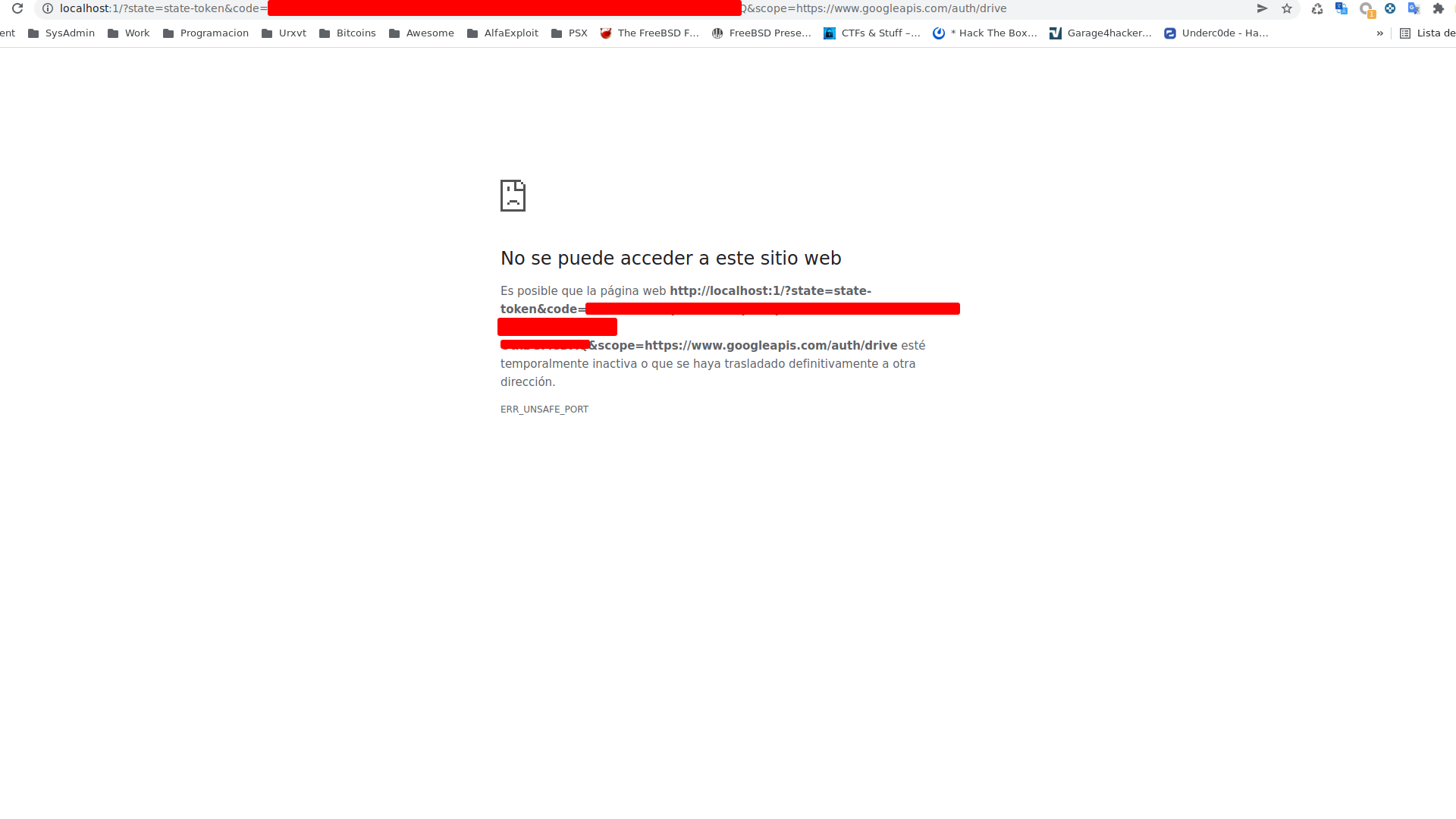 En la url del navegador vemos el "code":
http://localhost:1/?state=state-token&code=4/0AX123sdfFFrtsdfdofdgdfgytuiu554jjjGRUuUICD0btGPL56Eirrbsw4ciofgdfgbJ2-OtxBg4DDeDAQ&scope=https://www.googleapis.com/auth/drive

code=4/0AX123sdfFFrtsdfdofdgdfgytuiu554jjjGRUuUICD0btGPL56Eirrbsw4ciofgdfgbJ2-OtxBg4DDeDAQ

Se lo pasamos a la CLI de plexdrive y listo.